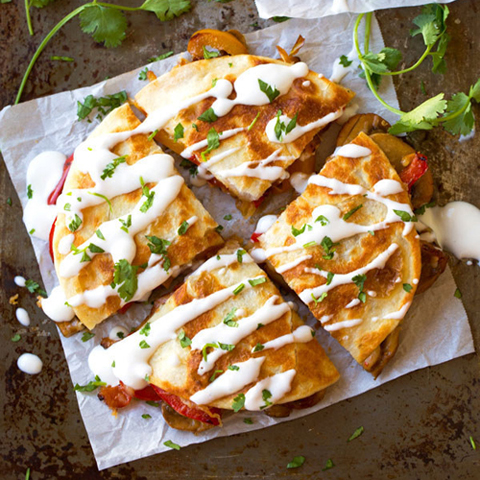 The perfect entree for an outdoor lunch or picnic, the slightly spicy smokiness of these quesadillas is perfectly complimented by the fruit-forward Rosé of Grenache.
INGREDIENTS
1 yellow onion

2 red or yellow bell peppers

1 tablespoon olive oil

4 tablespoons butter, divided

16 ounces fresh white mushrooms

1 1/4 cup shredded smoked gouda cheese

10 large flour tortillas

Sour cream, mild salsa, and cilantro for topping
PREPARATION
Prepare the peppers: Slice the onion and peppers into thin strips. Heat the olive oil in a large non-stick skillet over medium-high heat; add the onions and saute for 5 minutes until soft and roasted-looking on the outside. Transfer to a bowl
Prepare the mushrooms: Wipe the skillet with a paper towel and return to the stove. Add 1 1/2 tablespoons of butter and melt over medium-low heat. Add the mushrooms and saute for 5 to 8 minutes or until golden brown. Toss in the bowl with the peppers and onions.
Assemble and cook: Wipe the skillet with a paper towel (again) and return to the stove. For each quesadilla, melt 1/2 tablespoon of butter in the pan and layer 1 tortilla, 2 tablespoons of cheese, 1/2 cup of the pepper and mushroom mixture, 2 more tablespoons of cheese, and a second tortilla. Press the tortillas together with a spatula and flip over to brown the opposite side.
Remove and cut into pieces. Garnish with sour cream, a mild salsa, and cilantro.
This recipe was adapted from pinchofyum.com