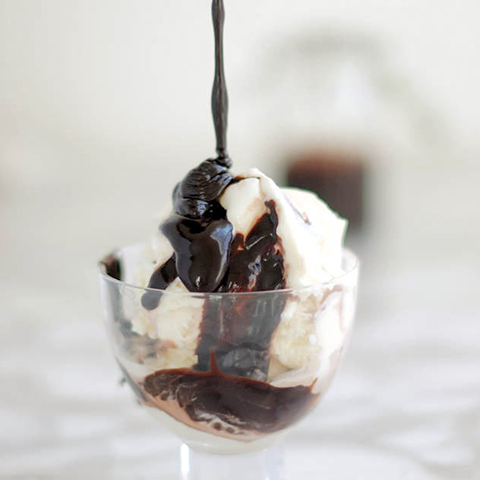 A rich, dark, chocolate sauce made with port wine for a grown-up ice cream sundae topping. Use the best chocolate you can find, we recommend either Ghiradelli or Guittard.
This sauce is perfect with vanilla ice cream but it's also great poured over brownies or used as a dipping sauce for strawberries. We also like a big spoonful stirred into black coffee after dinner.

INGREDIENTS:
6 oz semi-sweet chocolate, finely chopped

1/2 cup light corn syrup

2/3 cup La Vie Dansante Forté Syrah Port

1/4 cup granulated sugar

1/4 cup cocoa powder

2 tbs unsalted butter

1/4 tsp sea salt

1 tsp vanilla extract

PREPARATION:
1. Combine all of the ingredients, except the vanilla, in a medium sauce pan or double-boiler.
2. Warm over low heat until melted and then increase the heat to medium.
3. Continue to heat the mixture, stirring almost constantly, until it reaches a boil. This won't be a "rolling" boil due to the weight of the sauce but you should see bubbles forming all along the edges of the pan.
4. As soon as the mixture boils, reduce the heat and simmer for 2 to 3 minutes.
5. Remove from the heat and stir in the vanilla.
6. Cool for 10 minutes before serving. To serve later, cool completely and refrigerate. The sauce will last several months in the refrigerator.