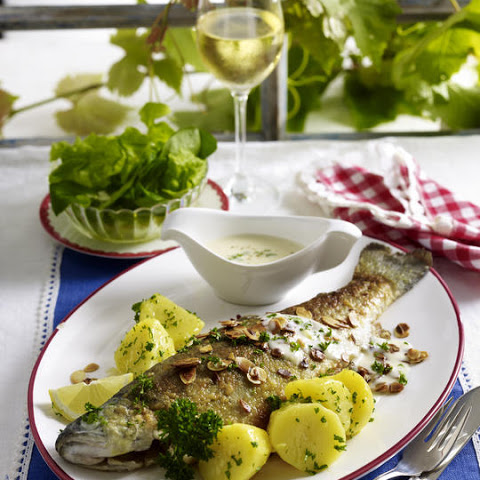 This elegant, classic trout is poached in a court-bouillon (flavored poaching liquid) of white wine, carrots, and herbs. The traditional lemon butter sauce is nicely complemented by our Audition Roussanne/Marsanne blend.

COURT-BOUILLON
3 cups water

1 cup La Vie Dansante Wines Audition

1/4 cup sliced carrots

1 cup sliced yellow onion

1 large sprig of thyme

2 bay leaves

Juice of 1 lemon (reserve the shells)

1/2 teaspoon of salt

1 teaspoon of freshly ground pepper
4 trout fillets
1/2 teaspoon of salt
1 glass of Audition for drinking
LEMON BUTTER SAUCE
1/4 cup minced shallots

4 lemons, peeled and quartered

1 cup of La Vie Dansante Wines Audition

1/8 teaspoon cayenne pepper

1/4 cup heavy cream

3/4 cup unsalted, cold butter cut into pieces

1/8 teaspoon Tabasco Sauce

1/4 teaspoon Worcestershire Sauce
TO MAKE THE COURT-BOUILLON: In a large saute pan, skillet, or fish poacher, combine all of the Court-Bouillon ingredients and bring to a boil over medium heat. Reduce the heat and simmer for 30 minutes. Remove and discard the lemon shells. Simmer gently for 10-15 minutes longer, until the liquid has been slightly reduced.
Season the fillets with the salt. Add the fillets to the court-bouillon, cover and cook until the fish flakes easily with a fork, about 10 minutes. Using a slotted spatula transfer the fish to a plate and keep warm.
Continue to simmer and reduce the court-bouillon over medium heat.
MEANWHILE, MAKE THE SAUCE: In a small non-reactive saucepan, combine the shallots, lemons, wine, salt, and cayenne. Bring to a gentle boil over medium heat and cook to reduce to a syrup. Add the cream and cook for 2 minutes, stirring a few times, then remove from the heat. Whisk in the butter, 1 tablespoon at a time, to make an emulsified sauce. Add the Tabasco and Worcestershire and whisk to blend. Strain through a fine-mesh sieve and keep warm in a tepid water bath.
To serve, place a fillet on each of 4 warmed serving plates and spoon 1/4 cup of sauce over.  Accompany this dish with parsleyed potatoes.
This recipe was adapted from Emeril Lagasse's "Every Day's a Party". Photo from "yummly.com".