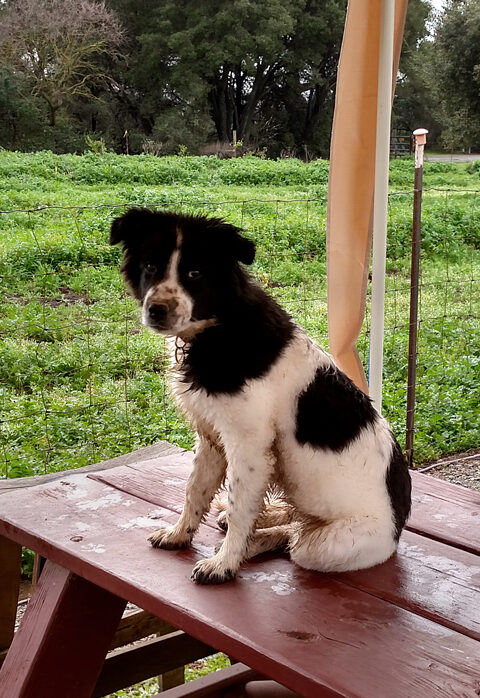 Noelani, "Noe" to all her friends – which is everybody she's ever met – showed up at the winery on January  22nd, 2017.  She took a look around and thought to herself "this place doesn't suck, I think I'll stay" and we haven't been able to get rid of her since.
Our best guess is that she was born in September of 2016. She's mostly Border Collie, part Aussie Shepard and a completely a handful.  She was found running down the middle of Monterey Highway in Gilroy in the rain; wet, bedraggled, and without a collar. Friends brought her to the property because we "have lots of room and what's one more dog?"
She didn't have tags, she's not chipped, and after asking around it appeared nobody was looking for her.  So I took her home for "just a couple nights"…  Her name "Noe" comes from the hawaiian word "Noelani" which means "heavenly mist".  We're stretching the meaning a little to include rain which, given the winter of 2016 was the wettest anybody can remember, seems fitting for our little angel.
Predictably she's now a fixture around the winery.  She's incredibly smart, loyal, and shares our hatred for ground squirrels.  You'll see her when you come to the winery because it's her job to meet you at your car and escort you into the Tasting Room.  She's friendly and affectionate to all so give her a pat or a scritch behind the ears to tell her she doing a great job.