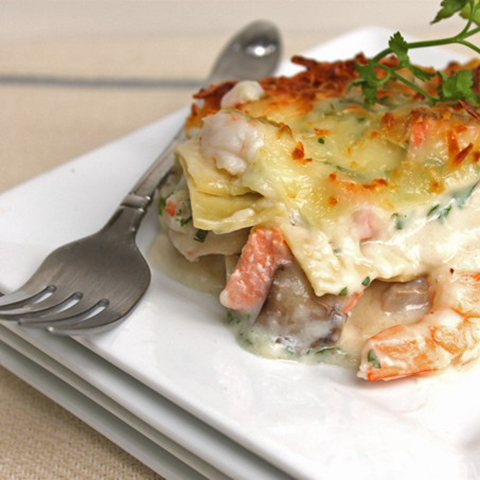 Some people might think that seafood and cheese don't belong together but we're here to prove them wrong! This seafood lasagna pairs perfectly with our Grenache blanc
This recipe is mostly a guideline for the flavor profile. Give up all pretenses of this being a "healthy" sandwich but if you want to at least look the part, feel free to add anything your heart desires such as fresh Spinach or Avocado.
INGREDIENTS
4 pieces of rustic bread

Butter for grilling

4 oz of Brie cheese, rind removed if preferred

4 oz of Turkey, white meat recommended

2 slices of thick-cut Bacon

4 tbs Cranberry Sauce

1/4 cup of Mayonnaise

1/4 tsp of crushed Garlic

2 tsp Dijon Mustard
INSTRUCTIONS:
Mix together the Mayonnaise, Garlic, and Dijon Mustard. Set aside.
Heat a large skillet with a lid over medium heat. Add the bacon and fry until desired crispness is achieved. Remove the Bacon and set aside. Pour out the Bacon grease if you're worried about the calories (spoiler alert: it won't help) or if there's more than enough to just lightly cover the bottom of the pan.
Spread butter on one side of each of the pieces of bread. Put two pieces of bread, butter side down, in the skillet. Add the Brie, Cranberry Sauce, Turkey, and Bacon on top of the bread. Spread the Mayonnaise mixture on the other two slices of bread and place them Mayo side down, Butter side up, to top off the two sandwiches.
cover the skillet and cook over low heat for several minutes – until the bread is lightly browned. Carefully flip the sandwiches and cook, covered, for several minutes – again until the bread is lightly browned.
TO SERVE:
Remove from the pan, slice and serve immediately.