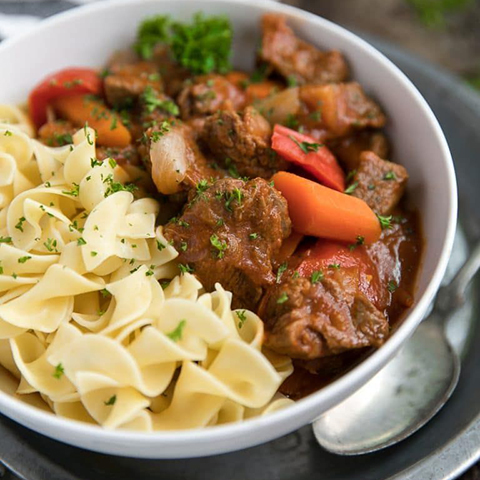 Goulash is, at its soul, a braised-beef stew. In the true Hungarian version it's full of fun spices like paprika, caraway, and oregano. We think it demands to be paired with an equally complex wine such as our Grenache.
INGREDIENTS:
4 tbs olive oil

3 lbs stewing beef cut, into 1/2" pieces

1 tsp salt

1 tsp pepper

2 large onions, rough chopped

5 cloves garlic, minced

3 tbs sweet paprika

1 tsp caraway seeds, ground

1 tsp dried oregano

3 bay leaves

1 tsp brown sugar

1/2 cup dry, light red wine

4 cups beef broth, no salt added

1/2 cup tomato sauce

2 tbs Balsamic vinegar

2 carrots, diced

2 red bell peppers, diced
2 tbs parsley for garnish

PREPARATION:
1. Heat a large deep skillet over high heat then add the olive oil. When the oil is hot add the stewing beef. Season with salt and pepper and sear the beef until it starts to brown.
2. Add the onions and garlic and cook for about 5 minutes until soft, but not brown. Move the beef mixture to a crockpot.
3. Add the paprika, caraway seeds, oregano, bay leaves, and brown sugar to the beef mixture. Stir to ensure even spicing throughout the dish.
4. Add the wine, tomato sauce, balsamic vinegar, beef broth, carrots, bell pepper, and stir. Allow to simmer, stirring occasionally for 6 hours on low. Don't hesitate to add water if too much liquid reduces.
5. Taste for seasoning and adjust salt, pepper, and brown sugar (which balances acidity) if necessary.

TO SERVE:
Accompany with plain egg noodles or garlic mashed potatoes. Add a dollop of sour cream and garnish with parsley. Serves 8 to 10.