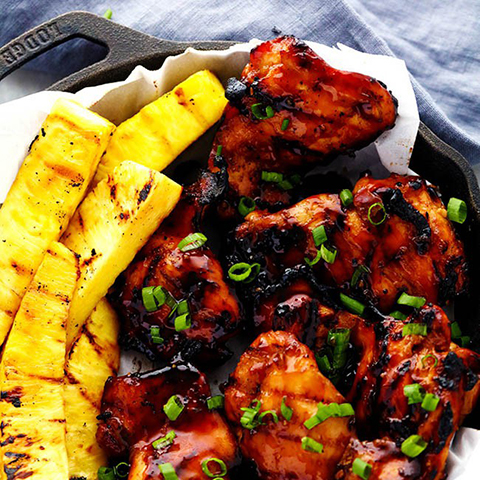 Huli Huli chicken is a Hawaiian street-food first created in 1954 by Ernest Morgado using his grandmother's recipe. He never divulged the actual ingredients so this is our best approximation based on happy memories and research. I wonder if he knew how well it pairs with our GSM blend?
"Huli" is the Hawaiian word for "turn over" and legend has it this dish is called "Huli Huli Chicken" because in the early days Ernest and a small army of local helpers, many of whom didn't speak English, would man dozens of grills at once. When it was time to flip over the chicken, Ernest would shout "huli huli".
INGREDIENTS:
2 whole chickens split in half or 4 lb of thighs

1/3 cup ketchup

1/3 cup shoyu (soy sauce)

1/4 cup dark brown sugar

1/4 cup sherry

2 tbs sesame oil

1 tbs Worchestershire sauce

1 tbs ginger, grated

3 cloves garlic, crushed

PREPARATION:
1. In a sauce pan, combine all of the sauce ingredients and simmer on low until flavors are combined, approximately 5 minutes. Allow to cool.
2. Using about 3/4 of the sauce, marinate the chicken thighs in the sauce for several hours or overnight, reserving the remainder of the sauce for basting.
3. Prepare a bed of hot coals from Kiawe (Mesquite) wood in a barbeque or hibachi. Charcoal will work in a pinch, but gas is right out.
4. Place the chicken on the grill and baste with the reserved sauce. Grill for 10 minutes then shout "huli huli" and flip the chicken over. Baste with more sauce and grill for and an additional 10 minutes. Shout "huli huli" again and flip the chicken over one last time. Baste with the remaining sauce and grill for a final 10 minutes or until done.
5. Serve with white sticky rice and mac salad for the full Hawaiian experience.