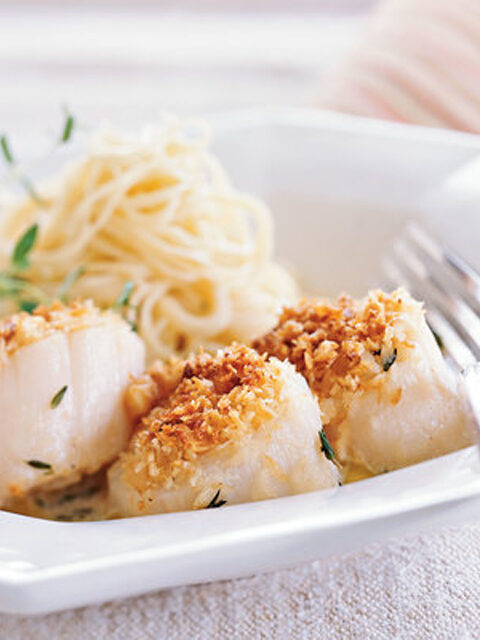 Tender scallops crusted with a crispy mixture of panko and chopped hazelnuts in a cream sauce based on our Overture White Cuvee. A flavor combination sure to make you close your eyes and sigh.
INGREDIENTS
5 tablespoon butter, divided into 4 and 1.

1/2 cup of La Vie Dansante's 2015 White Blend

1/4 cup heavy whipping cream

1 teaspoon fresh thyme

1/4 teaspoon salt

1/4 teaspoon freshly ground black pepper

A pinch of ground nutmeg

1 pound sea or bay scallops, drained

1/4 cup panko

1/4 cup finely chopped hazelnuts
PREPARATION
Preheat oven to 375°.
Melt 4 tablespoons butter in a cast-iron or ovenproof skillet.  Stir in wine, whipping cream, thyme, salt and pepper.  Add scallops, turning to coat. Remove from heat.
Melt remaining 1 tablespoon butter in a small bowl in the microwave, and stir in panko and nuts. Sprinkle mixture over scallops to form crust.
Place skillet into oven and bake at 375° for 10 to 12 minutes or until bubbly and golden brown.
Serve with roasted vegetables and buttered pasta.
This recipe was adapted from Coastal Living magazine.