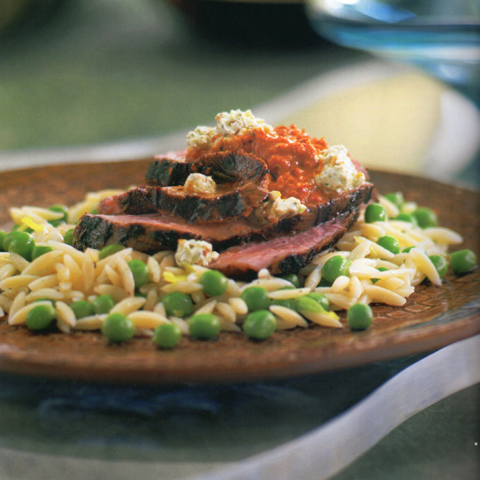 A decidedly Mediterranean flavor permeates this complex dish.  The lamb is marinated in La Vie Dansante Wines Rehearsal Syrah blend while the two sauces comingle in the finished preparation.
Serve with Buttered Peas and Orzo with Lemon Zest.
MARINADE
1/4 cup olive oil

1 tablespoon balsamic vinegar

1 tablespoon Dijon Mustard

1 bay leaf, crumbled

3/4 teaspoon hot paprika

1/4 cup chopped fresh mint leaves

1 large clove garlic, thinly sliced

1/2 cup La Vie Dansante Wines 2013 Rehearsal

1/8 teaspoon kosher salt

1 tablespoon herbes de Provence or dried rosemary
One 6 to 7 pound leg of lamb, boned, butterflied, and trimmed of excess fat
FETA-MINT BUTTER
12 ounces feta cheese, cut into chunks

1 green onion, including light-green parts, finely chopped

1/3 cup minced fresh mint

1 tablespon white wine vinegar

Pinch of freshly ground white pepper

1/4 cup pine nuts, toasted
SUN-DRIED TOMATO AND ROASTED RED PEPPER SAUCE
1/4 cup La Vie Dansante Wines 2013 Rehearsal

3 red bell peppers, roasted adn peeled

8 ounce jar of oil-packed sun-dried tomatoes

2 tablespoons minced shallots

1/3 cup minced fresh flat-leaf parsley

1/2 teaspoon Tabasco Sauce

2 tablespoons red wine vinegar

Kosher salt
6 springs of mint for garnish
TO MAKE THE MARINADE: In a small bowl, combine all the ingredients and whisk thoroughly. Pour the marinade into a large self-sealing plastic bag. Add the lamb. Refrigerate for at least 3 or up to 4 hours, turning occasionally.
Light a fire in a charcoal grill or preheat a gas grill to high. Remove the lamb from the refrigerator 30 minutes before cooking.
MEANWHILE, MAKE THE BUTTER: In a blender or food processor, combine the feta, green onion, mint, vinegar, and pepper. Process until smooth. Ad the pine nuts and pulse 10 to 12 times. Transfer to a small bowl and set aside.
TO MAKE THE SAUCE: In a small saucepan, simmer the wine to reduce by half. In a blender or food processor, combine the bell peppers, sun-dried tomatoes and oil, shallots, parsley, Tabasco Sauce, reduced wine, and vinegar. Process until smooth. Transfer to a small non-metal bowl. Season with salt and set aside.
Remove the lamb from the marinade and pat dry. Cut the lamb into sections with approximately the same thickness. Grill for 10 to 12 minuts on one side. Turn and grill for 8 to 10 minutes, depending on thickness, for medium rare.
To serve, cut the lamb into serving slices. Place on warmed plates and dollop with the tomato-pepper sauce. top with feta-mint butter.
Recipe adapted from "The Wine Lover Cooks with Wine" by Sid Goldstein.