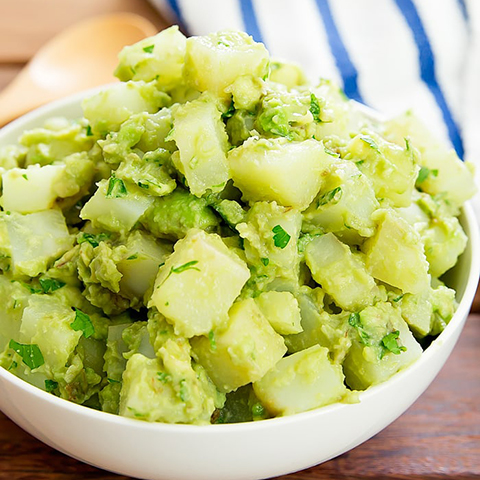 Coming Soon!
Description
INGREDIENTS:
4 lbs russet potatoes

15 oz ripe avocado (5 or 6 small)

8 tbs olive oil

2 cloves garlic, finely chopped

1/2 cup cilantro (plus a little for garnish)

2 tbs fresh thyme, finely chopped

2 tbs fresh oregano, finely chopped

2 tbs fresh basil, finely chopped

2 tbs lime juice

Salt and pepper
PREPARATION:
1. Preheat your oven to 350° F
2. In a small bowl mix the cilantro, herbs, garlic, and lime juice, with 4 tbs of olive oil. Add additional olive oil until the mixture resembles a pesto sauce.
3. Wash and dice the potatoes, leaving the skin on for a more "rustic" version of the salad or removing the peel if you're feeling "elegant". Place the potatoes in a baking pan and lightly oil with olive oil. Season with salt and pepper.
4. Bake for 30 – 45 minutes, stirring and checking for doneness every 15 minutes. If you prefer the potatoes slightly "al dente" you'll need to remove them a little early as they'll continue to cook while cooling. Set aside and cool.
5. Skin and pit the avocados, dicing one half and mashing the other half.
6. Place the potatoes, herb mixture, and mashed avocados in a large salad bowl and stir to combine. Add the diced avocados and stir gently to incorporate. Garnish with a little extra cilantro.