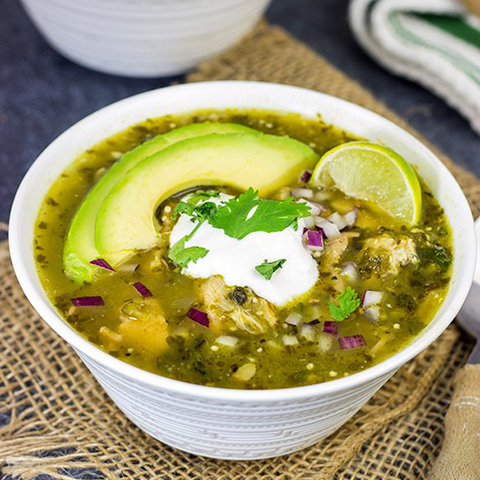 Chili Verde may seem like a strange pairing with Viognier but when you think about it, it's just about perfect.

The clean, crisp flavors of Viognier, along with the slight sweetness from this fruit-forward wine serve to balance the pepper spice in the Chili Verde. Each sip of wine clears your palate and readies your tongue for more spicy goodness from the poblanos and jalapenos.
Ingredients:
1 1/2 lbs tomatillos

5 garlic cloves

4 medium jalapenos, seeded, ribs removed

2 poblano chiles, seeded, ribs removed

1 bunch cilanto leaves, cleaned and chopped

4 lbs pork shoulder (also called butt) cubed

Salt

Fresh black pepper

2 yellow onions, chopped

3 garlic cloves, peeled and finely chopped

2 tbs chopped fresh parsley

1 tbs dried oregano

2 1/2 cups chicken stock

A pinch of dried cloves

Masa flour for thickening if necessary
Garnish:
Sliced avocado

Lime wedges
Preparation:
1. Remove the paper husks from the tomatillos and slice in half. Slice the jalapenos and poblano peppers in half and remove the ribs and seeds. Place the tomatillos, peppers, and 5 garlic cloves on a foil lined baking sheet and broil under high heat until the skins blacken. Remove from heat and allow to cool.
2. While the veggies are roasting, season the pork well with salt and pepper. Sear the pork on all sides in a heavy skillet with a bit of olive oil. Work in batches so the pork is not crowded in the skillet.
3. Remove the skins from the peppers and garlic. Keep the skins on the tomatillos for added flavor. Place in a blender along with the cilanto and pulse until all ingredients are finely chopped and mixed.
4. Saute the onions and remaining garlic in the pan used to roast the pork until limp, about five minutes. Pro-tip: Get all the brown goodness out of the pan by deglazing with some viognier.
5. In a large pan, pot, dutch oven, or crockpot, combine the pork, verde sauce, sauteed onions, and cloves. Let simmer for at least three hours, If necessary you can thicken the sauce by mixing masa flour with hot water until the consistency of peanut butter and stirring it into the verde. Go slowly, a little thickens a lot.
To Serve:
Serve over steamed white rice or with fresh, warm tortillas. We like to garnish with avocado slices and lime wedges but also try sour cream, onions, or crumbled cotija cheese.