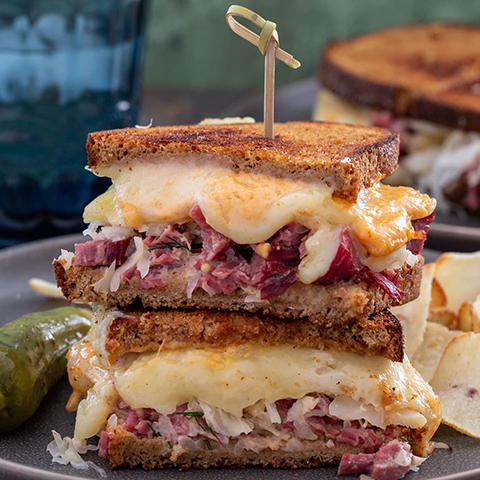 This recipe started with a March wine club release party back in 2017 when we did a full Irish boiled dinner. After the event we had several pounds of Corned Beef leftovers… Turns out these Rubens are the best thing ever! Especially with our Grenache.
INGREDIENTS:
Corned Beef –
2 qts water

2 cup kosher salt

1/2 cup brown sugar

2 tbs pink curing salt

1 cinnamon stick, broken

1 tsp mustard seeds

1 tsp black peppercorns

8 whole cloves

12 whole juniper berries

8 allspice berries

2 bay leaves

1/2 tsp ground ginger

2 lbs ice

4 lbs beef brisket, trimmed

1 sm onion, quartered

1 lg carrot

1 stalk celery

Russian Dressing –
1 cup mayonnaise

2 tbs sour cream

1/3 cup chili sauce (Heinz)

2 tsp hot sauce

2 tbs prepared horseradish

1 tbs Worcestershire Sauce

1 tsp finely grated onion

1 tbs parsley, minced

1 clove garlic, minced

1 tbs dill pickles, minced

1 tsp fresh lemon juice

1 pinch salt & pepper

Condiments –
Sauerkraut

Swiss Cheese, slices

Jewish Rye bread

PREPARATION:
Corned Beef –
1. Place the water into a large stockpot along with sugar, salt, curing salt, cinnamon, mustard seeds, peppercorns, cloves, allspice, juniper berries, bay leaves, and ginger. Cook over high heat until the salt and sugar have dissolved. Remove from heat and cool using the ice. Place the brine in the refrigerator if necessary to get the temperature down to 45 deg F.
2. Place the brisket in a 2-gallon ziploc bag or other container and fill with the brine. Seal and place in the refrigerator for 10 days, turning daily. Make sure the brisket is completely covered by the brine.
3. After 10 days, remove the brisket from the brine and rinse well. Place the brisket in a stockpot and cover with 1″ of water. Add the onion, carrot, and celery and bring to a boil. Reduce the heat to low, cover, and simmer for 2 1/2 to 3 hours. Remove from the pot and slice across the grain.
Russian Dressing –
1. Combine all of the ingredients in a medium bowl and mix to integrate the flavors. Taste and adjust seasonings. Use immediately or refrigerate overnight.
Sandwiches –
1. Butter one side of tow slices of Jewish rye bread.d Add one slice of swiss cheese to each side. On one of the slices of bread, add Russian dressing, sauerkraut, and sliced corned beef.f Cover with the second slice of bread and cheese to make a sandwich.
2. Brush with melted butter and grill each side in a pan or on a flattop until the bread is golden and the cheese has melted.