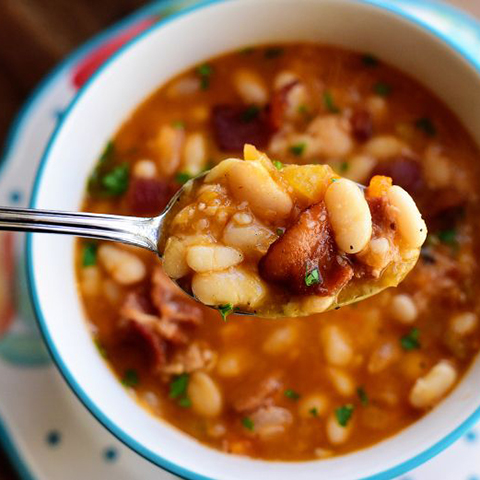 This soup began as our "vegetarian" choice for a spring wine club release. It was a hit but we heard time and again – "it would be GREAT with some bacon". They weren't wrong…and our Aubade white cuvee helps too!
INGREDIENTS:
1 lb Great Northern white beans

4 cups low sodium chicken stock

1 lb thick-cut bacon, cut Into 1-inch pieces

1 onion, diced

2 carrots, peeled and diced

2 stalks of celery, diced

Salt and pepper, to taste

4 cloves of garlic, minced

2 tbs tomato paste

1/4 cup Roma tomatoes, chopped

2 whole Bay leaves

Minced parsley, for garnish

PREPARTATION:
1. Pick through the beans and remove MOB (material other than beans). Put the beans in a bowl and cover with water by two inches. Let them soak overnight.
2. Drain the beans and place them in a pot. Add the chicken stock and 4 cups of water. Bring to a boil, then reduce to a simmer.
3. While the beans are cooking, cook the bacon in a large skillet over medium heat until just barely crisp. Remove to a paper towel-lined plate. Add 2/3 of the bacon to the beans and reserve the rest for garnish.
4. Drain excess bacon grease from the pan and add the onions, carrots, and celery. Season with salt and pepper and cook until just beginning to soften, about 3 to 4 minutes. Add the garlic and tomato paste and cook for another minute or two. Add the vegetables to the beans. Add the bay leaf and give it a good stir.
5. Cover and cook on low (to medium-low) until the beans are tender, about 1 1/2 hours. Add a cup of broth if the liquid level gets too low.

TO SERVE:
Taste and add more salt and pepper if needed. Top with reserved bacon and chopped parsley. Serves 6 to 8.