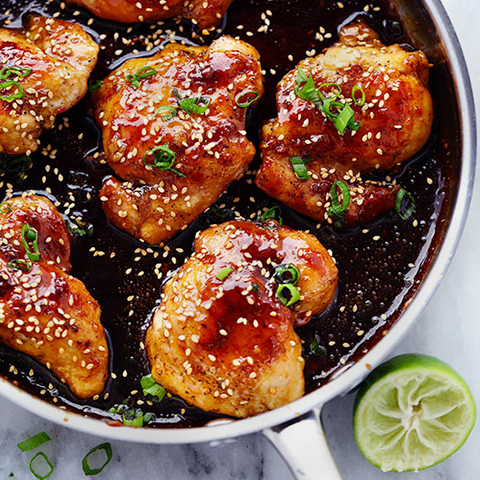 This recipe is all about any excuse to slather our favorite Hawaiian-style sticky sauce on a piece of chicken… or a crockpot full of meatballs. Either way, pair it with our Serenade GSM blend on a summer afternoon.
INGREDIENTS
1 lb chicken thighs (boneless if you must)

1 tbs olive oil

3/4 cup brown sugar

1/3 cup soy sauce (Aloha Shoyu if possible)

1/4 cup rice wine vinegar

2 tbs hoisin sauce

2 tbs sesame oil

1 tbs sweet chili sauce

1 tbs ginger, grated

1 shallot, minced

A pinch of dried red pepper flakes

1/2 tsp garlic, minced

Juice of one lime
PREPARATION
1. In a sauce pan, whisk sauce ingredients – everything except the chicken – together and bring to a low simmer. Cook for 3 to 5 minutes or until the sauce begins to thicken. Remove from heat and allow to cool.
2. Marinate the chicken thighs in the sauce for several hours or overnight, reserving half the sauce for basting.
3. In a large oven-proof skillet – preferably cast iron – cook the chicken thighs, skin side down, in a 400 degree oven for 10 minutes. Flip the thighs over, coat with the reserved basting sauce, and continue to bake at 400 degrees for an additional 25 minutes or until the internal temperature reaches 165 degrees. Extra credit for repeated applications of the sauce during the final oven time.
4. Serve with white sticky rice and mac salad for the full Hawaiian effect.
This recipe came, in part, from The Recipe Critic (www.therecipecritic.com) and from many years of grilling in Hawaii.