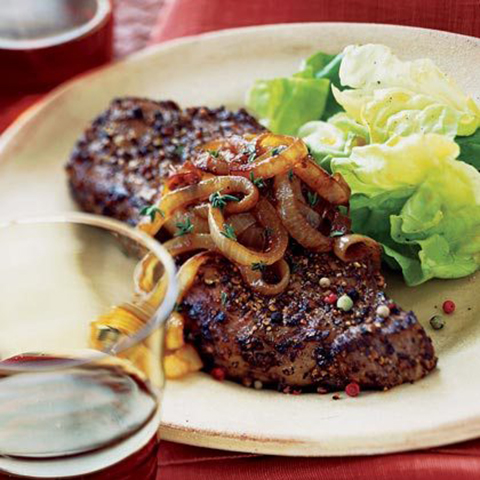 One of our favorite things about Syrah is the notes of pepper and spice in the finish. Our Nocturne is mostly Syrah with a shot of Mourvèdre and bit of Carignane so it pairs perfectly with this simple Pepper Steak garnished with onions.
INGREDIENTS
2 tbs butter

2 tbs olive oil

2 sweet (Walla Walla, Vidalia, or Maui) onions, peeled and slivered lengthwise

About 1/2 tsp Kosher salt

1/2 tsp sugar

2 tbs Balsamic vinegar

1 tbs fresh thyme leaves

4 boned tender beef steaks (9 to 12oz) such as New York Strip or Rib-Eye

1/4 cup fresh-cracked multicolored peppercorns
PREPARATION
1. Melt 1 1/2 tablespoons of butter with 1 1/2 tablespoons of olive oil in a 12 inch oven-proof frying pan over medium heat. Add onions and stir in 1/2 teaspoon of salt. Cover and cook, stirring occasionally, until onions are limp, about 8 minutes. Uncover and sprinkle with 1/2 teaspoon of sugar. Increase the heat to medium-high and stir often until onions begin to brown, 5 to 7 minutes. Add Balsamic vinegar and half of the thyme leaves, stirring often until the liquid has evaporated, 1 to 2 minutes longer. Remove the onions from pan and set aside.
2. Rinse steaks and pat dry. Sprinkle both sides lightly with salt, then coat with the crushed pepper. Melt the remaining 1/2 tablespoon of butter and 1/2 tablespoon of olive oil in the frying pan over medium-high heat. Add steaks and cook until well-browned on the bottom, 4 to 5 minutes. Turn steaks over and cook until beginning to brown on the other side, about 2 minutes. Transfer pan to a 375°F oven and bake until medium-rare, about 7 to 8 minutes or until as done as you like.
3. Transfer the steaks to warm plates. Spoon the onions over the top of the steaks and sprinkle with remaining thyme leaves. Accompany this dish with Garlic Rosemary Mashed Potatoes.
This recipe was found on Sunset Magazine (www.sunset.com)